I received this book for free from NetGalley.com . This does not affect my opinion of the book or the content of my review.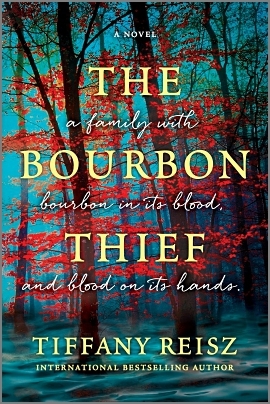 The Bourbon Thief
by
Tiffany Reisz
Published by
Mira
on June 28, 2016
Genres:
Fiction
,
Contemporary Women
,
Family Life
,
Literary
,
General
,
Romance
,
Historical
Pages:
400
Format:
eARC
Source:
NetGalley.com
Buy on Amazon
Goodreads
From the internationally celebrated author of the Original Sinners series comes a brand-new tale of betrayal, revenge and a family scandal that bore a 150-year-old mystery

When Cooper McQueen wakes up from a night with a beautiful stranger, it's to discover he's been robbed. The only item stolen—a million-dollar bottle of bourbon. The thief, a mysterious woman named Paris, claims the bottle is rightfully hers. After all, the label itself says it's property of the Maddox family who owned and operated Red Thread Bourbon distillery since the last days of the Civil War until the company went out of business for reasons no one knows… No one except Paris.

In the small hours of a Louisville morning, Paris unspools the lurid tale of Tamara Maddox, heiress to the distillery that became an empire. But the family tree is rooted in tainted soil and has borne rotten fruit. Theirs is a legacy of wealth and power, but also of lies, secrets and sins of omission. The Maddoxes have bourbon in their blood—and blood in their bourbon. Why Paris wants the bottle of Red Thread remains a secret until the truth of her identity is at last revealed, and the century-old vengeance Tamara vowed against her family can finally be completed.
I struggle with how to explain this one without giving away secrets but here we go any way…
There are two time periods (actually sort of 3… hmmmm….) that are presented in this book but you won't be thrown back and forth like crazy between the periods so if your afraid of it because of that…  worry no more.
Present day is a man meets a woman at the bar, they play a bit in bed, she tries to steal from him and then he gets told a story.  The present day piece is not the main story you want to hear even though I'd almost like to know more about Cooper as he might have his own story to tell but I digress.  Paris is the woman who has attempted to steal a very valuable bottle of bourbon from him and while he's pissed she makes a deal with him that he can't refuse.  She'll tell him a story and at the end of it he'll be compelled to give her the bottle as it is rightfully hers.  This is the real story you are wanting to read and it isn't the most beautiful or happy story.
We get to see the dark underbelly of a Kentucky bourbon dynasty where anything will go in order to keep the family line intact.  We have murder, incest, rape and all sort of other secrets that come to light as Paris reveals the story of the last of the great Maddox family.
Tamara is the golden Maddox princess but her life isn't all sunshine and love.  Is she spoiled?  Yes….  but not all is right in the Maddox household.  There are so many secrets that start to unravel on her birthday and they come to light slowly over the course of a few years and the reader is taken along for the ride.  We get glimpses of the founding of the distillery and the madness that started it all.  We also see that this latest behavior by the scion of the Maddox line is not the only time where darkness has entered it but that the line has had issues all along.
I enjoyed this story but I will warn you that this isn't for everyone.  There are things that come to light as Paris reveals the history which might make (honestly should make) one uncomfortable but I found myself drawn to the characters and wanted to know more.  I'd like to see more of Paris in the future as she intrigued me but this doesn't read like a start of a series so perhaps that will never happen.  If you don't mind darker tones to a story then I'd say go grab this one but if even the idea of rape or incest makes you extremely uncomfortable then you might not like this.  I will note that I did like what happened to the person who attempted the rape so… there's that…  Once again Tiffany has given us a story that isn't pretty in tone but keeps you interested in knowing more about the characters and wanting to know how it all plays out.