I received this book for free from NetGalley.com . This does not affect my opinion of the book or the content of my review.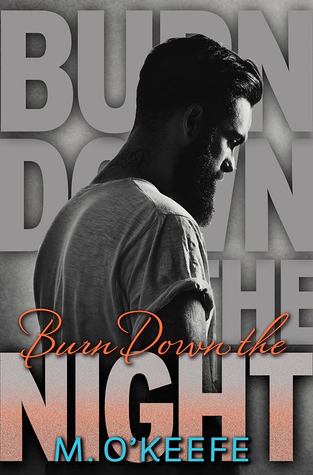 Burn Down the Night

Published by Loveswept on August 9, 2016
Pages: 334
Format: eARC
Source: NetGalley.com
Buy on Amazon
Goodreads

A battle for control turns explosive as a beautiful con woman takes a bad-boy biker hostage in this edgy, seductive novel set in the world of Everything I Left Unsaid ("Toe-curlingly sensual."—Katy Evans) and The Truth About Him ("Absolutely one-click worthy"—J. Kenner).

The only thing that matters to me is rescuing my sister from the drug-cooking cult that once enslaved us both. I've run cons my whole life, and I'll use my body to get whatever I need. Max Daniels is the last connection I have to that world, the one person reckless enough to get involved. Besides, now that his brothers have turned on him, he needs me too.

The deal was supposed to be simple: a place to hide in exchange for rescuing my sister. Now he's my prisoner. Totally at my mercy. But I'm the one captivated. Enthralled. Doing everything he asks of me until I'm not sure who's in control.

We both crave the heat. The more it hurts, the better. But what if Max wants a different life now, to leave the game . . . to love me? I thought I knew better than to get burned. Now I'm in too deep to pull away. And the crazy thing is . . . I don't want to.
Thank you to those who were posting their thoughts on this book – Bree in particular – because they made me go grab this from NetGalley.  I am glad I went ahead and gave this a chance even though I haven't read the others in the series because…
HOLY CRAP WAS THIS ONE HOT…  AND … ANGSTY … AND … ALL THE FEELS
This book starts out with a few bangs as the heroine cuts loose with a couple of well-planned explosions but you immediately know that she really doesn't want anyone to be hurt, she's just desperate.  This desperation to rescue the only thing that matters to her, her sister, makes her do things she really doesn't want to do but her guilt and love drive her to take the measures needed.  Olivia was such a lost soul that I felt for her as she struggled to do the right thing and finally let someone actually help her.  She's had a hard lot in life which has made her extremely guarded and unable to process when someone actually does something nice for her.  She shies away like an abused animal from affection even as she craves it.  I loved seeing her finally open up to others even as she fought to get Max to do some of the same.  There is a purity of spirit in her that, even though she tries to bury it, shines thru in her actions and concern for others.
Max is like Olivia in many ways…  He's convinced that he deserves nothing good, he's worthless, family is better off without him…  I could go on but as you'll see he's really a good man at his core who made decisions that weren't the best.  He was born in to a MC life but tried to escape it until his brother was drawn in which led him to come back.  He wants the best for his brother and will do what it takes to keep Dylan free from the hell that is MC.  I loved seeing how devoted he was to making sure that his brother wasn't tainted by association with him as it showed his heart was in the right place.  He isn't expecting to find someone that he wants to connect with but the chemistry between he and Olivia cannot be denied.  They both don't expect to have anything good in their lives nor do they think they deserve it but somehow this pair of damaged souls manage to heal one another.  They aren't perfect but they fit one another completely.
You can't help but be drawn in to the story between these two strong characters so don't bother fighting it.  I didn't feel like I was lost even though this isn't the first story so dive on in.  I will be going back and reading about Dylan and Annie though so….