I received this book for free from the publisher . This does not affect my opinion of the book or the content of my review.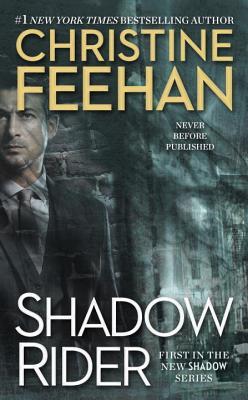 Shadow Rider

by Christine Feehan
Published by Penguin Publishing Group on June 28th 2016
Genres: Fiction, Romance, Suspense, Paranormal
Pages: 480
Source: the publisher
Buy on Amazon
Goodreads

The #1 New York Times bestselling "queen of paranormal romance"* is back with a sexy new series starring a Chicago crime family that hides a dark, mystical secret...

Whether it's fast cars or fast women, Stefano Ferraro gets what he wants. When he's not fodder for the paparazzi, he commands Ferraro family businesses—both legitimate and illegitimate.

While their criminal activity is simply a rumor yet to be proven, no one knows the real truth. The Ferraros are a family of shadow riders capable of manipulating light and dark, an ability Stefano thought ran in his family alone—until now…

With little left to her name, Francesca Cappello has come to Chicago in hopes of a new life. She wasn't expecting to attract the attention of a man with primal hunger in his eyes, driven to claim her as his to protect and to please. And if he discovers her secret, it could ruin her...
So at RT in Las Vegas this year I met a fun person, Amy, who was jonesing for this book…  I went to the Feehan event because I had others who I know love her stories but after seeing the trailer and being around people who were so excited..  I knew I wanted to read this.  Imagine my surprise when it ended up being one of the books that Erin and the team at Berkley were nice enough to include in the bags they gave bloggers.  Amy also got lucky enough that Jo (Kindle Jo) had her copy and didn't need it so…  AMY SCORED ONE!  I have to say that still ranks as my favorite moment of the convention as the look on her face was priceless.
I went in to this with a slight bit of knowledge about the Shadow Riders but still wasn't sure if I'd enjoy this or not but I have to say I need book 2 NOW because this story drew me in and the fact that I want to know more about the rest of the family.  There is something seriously messed up with the way they were raised but there is such a strong sense of family that you can't help being curious about who will be their matches.  The good thing for people who get addicted is that there are branches of the family so my guess is that if this goes well there will be a lot of stories to tell.
Francesca was a strong character who was put in a bad spot and truly only wants to be safe.  She doesn't want to be beholden to anyone but I also adore that even when she gets the windfall from our hero she is stubborn enough to not want to use any of it.  I liked her strength and the fact that she does want to be her own person even as she is offered the world.  She's also such a generous soul who is so drawn to our hero even when he pulls his caveman stunts but calls him on it then understands it as she gets to know the real him.  I liked how she argued but she wasn't stupid and knew when to back down.  She doesn't run stupidly in to trouble which made me happy.
Stefano… dude he was such an ass at the beginning.  He is used to getting things his way and truly struggles with the fact that something he never thought would happen not only has happened but is happening to HIM.  He's not as huge of an ass as I thought initially because once you get to know him you'll understand why he is the way he is.  Does he have stalker tendencies?  Yes.  Would you be frightened if someone in real life behaved the way he does with her?  Oh HELL YES.  Did I still love his overbearing self at the end of the story?  Yep Yep Yep…  GIMME MORE…  He's sexy as hell and instantly devoted to his Francesca as soon as he senses her.  There is something about such a dominant man being brought to his knees by his finding the love of his life that just does it for me.  He's not a good man by traditional standards but is a good man in so many respects.  You'll understand when you find out the family business…
I can't wait for more stories from this series and look forward to reading all of them as soon as possible.