I received this book for free from the Author . This does not affect my opinion of the book or the content of my review.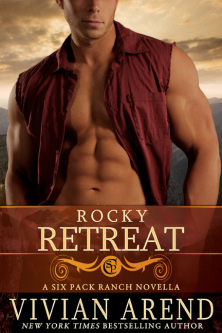 Rocky Retreat

Published by VIvian Arend on January 13, 2015
Format: eARC
Source: the Author
Buy on Amazon

Finding white-hot love in a white-out…

Eight months ago, Lee Coleman met the woman of his dreams…then lost her to another man. He buried his disappointment by throwing himself into work on the family ranch, but when a winter storm leaves him stranded, Lee finds more than shelter in the rustic safety of a hunter's cabin—he finds a second shot at love.

Rachel Malone's heart has been broken and stomped on by her cheating ex, and she's determined to never fall in love again. But a rebound fling? Doesn't sound like such a bad idea, especially when she's snowed-in with a gorgeous, sweet-talking Coleman.

Despite their off-the-charts chemistry, Lee makes it clear he wants more than a temporary romp. In fact, he's made it his mission to put a smile back on her face, even if it means taking it slow and resisting the scorching heat between them. This time around, he wants forever, while Rachel is positive that forever is a fool's dream.

Lee can't wait to prove her wrong…
This story is a part of a box set – Cowboys Last All Night – that is available now and are the links on the site at this time.  This title will be released on its own on February 17th but hey multiple stories for 99 cents..  YAY!!!  I haven't read the others yet but grabbed my own copy of the box set for later consumption.
Once again Viv gives us a story with heart and heat where a yummy cowboy finally has a chance to get the woman he thought could never be his.
I loved this chance for a younger man to show an older woman that not only is he the man for her but he isn't just a rebound.  He wants all she is not just a chance at having her in his bed.  I truly enjoyed seeing Lee manage to control his need for Rachel by taking things slow.  He was the one to put a stop on their scorching interlude in the cabin but it definitely isn't because he doesn't want her.  He wants her to truly understand that he's playing for keeps no matter how badly she wants this to just be a recover from the asshole ex sort of thing.
I enjoyed seeing him show Rachel how much he cared for her by just being there for her at every chance he got.  He's trying to take it slow since she just had a disastrous marriage but his taking it slow gives her time to second guess everything.  She's conflicted as she struggles to come to terms with falling for a man who cheated on her before the ink was even down on their marriage license and now a man that is much younger than her seems to want her?  I understood her struggle with body issues and the whole age thing as it impacts many of us.  I was happy that Lee showed her repeatedly that he wanted her …  just her… and age, body type and other things just weren't a big deal to him.
This is a warm yet sexy story about a strong woman finding her real partner with a man that she not only deserves but needs.  Both characters show their connection in not only words but in actions in and outside of the bedroom.  I enjoyed this installment in the series and look forward to more!
Ok…  I am starting a new Friday tradition here at the blog…  On each Friday I will do a review or post that will have a giveaway that will be mainly paper copies but at times could be e-copies or other items that just strike my fancy.  This first giveaway is a signed paperback copy of Vivian Arend's High Seduction and some miscellaneous swag including lip balm and a bottle opener.  To enter just comment if you've ever read one of her stories or if you've ever been invisible to someone you have crushed on.  Entries must be received by Wednesday, February 4, 2015 at 11:59 pm US Central.  I will draw a winner then so GOOD LUCK!!!